Laser-cut leggings are characterized by precision cutouts in the fabric that create designs, patterns, or other stylish details. They're made by machines that use a laser to cut the materials, resulting in precise cuts and sealed edges without fraying.
Laser Cut on Ordinary One Color Leggings
Because the majority of laser-cut leggings are one color, they're easy to pair with any tank top or sports bra. Furthermore, because seams would interfere with cutouts, most laser-cut leggings are also seamless. Chafing is less likely with no seams. The cutouts also provide airflow, which is particularly beneficial in hot regions, Bikram yoga courses, and unusually warm fall weather.
For another, laser machines can also perforate on leggings which will enrich your design of leggings and also increase the breathability and toughness of leggings. With the help of perforated fabric laser machine, the sublimation printed legging can also be laser perforated. Galvo and gantry dual laser heads make laser cutting and perforating convenient and speedy on one laser machine.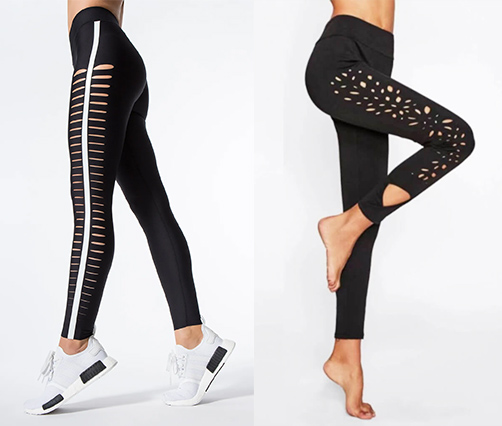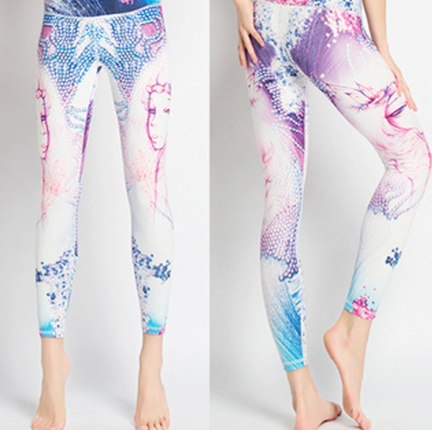 Laser Cut on Sublimated Printed Legging
When it comes to cutting on sublimated printed Leggings, our smart Vision Sublimation Laser Cutter can easily handle these common problems like the Slow, Inconsistent, and Labor-intensive manual cutting of each part, shrinkage, or stretches that frequently occur in unstable or stretchy textiles and the cumbersome procedure of trimming Fabric edges.
With cameras scan the fabric, detecting and recognizing the printed contour or picking up the printed registration marks, and then cutting the desired designs with a laser machine. The entire procedure is automated. Any cut error from fabrics shrinkage can be avoided by accurate laser cutting along the printed contour.
Demonstration for fabric laser perforating
◆ Quality: uniform smooth cutting edges
◆ Efficiency: fast laser cutting speed
◆ Customization: complex shapes for freedom design
Because the two laser heads are installed in the same gantry on the basic two laser heads cutting machine, they can only be used to cut the same patterns. The independent dual heads can cut many designs at the same time, resulting in the highest cutting efficiency and production flexibility. Depending on what you cut, the output increase ranges from 30% to 50%.
Any question about laser process legging?
Benefits of Laser Cut Legging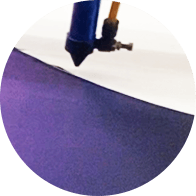 Non-contact laser cutting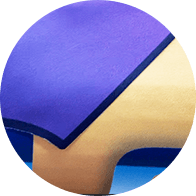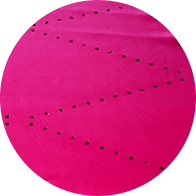 Uniform legging perforating
✔  Fine and sealed cutting edge thanks to contactless thermal cutting
✔  Automatic processing - improving efficiency and saving labor
✔ Continuous materials cutting through the auto-feeder and conveyor system
✔  No materials fixation with the vacuum table
✔  No fabric deformation with contactless processing (especially for elastic fabrics)
✔ Clean and no-dust processing environment due to the exhaust fan
Recommended Laser Cutting Machine for Legging
• Working Area (W * L): 1600mm * 1200mm (62.9" * 47.2")
• Laser Power: 100W / 130W / 150W
• Working Area (W * L): 1800mm * 1300mm (70.87'' * 51.18'')
• Laser Power: 100W/ 130W/ 300W
• Working Area (W * L): 1600mm * 1000mm (62.9" * 39.3 ")
• Laser Power: 100W/150W/300W
Simple Guide to Legging Fabric

Polyester is the ideal legging fabric since it is a hydrophobic fabric that is both water and sweat-resistant. Polyester fabrics and yarns are durable, elastic (returning to original shape), and abrasion and wrinkle-resistant, making them a popular choice for activewear leggings.

That leads us to Nylon, the ever-popular fabric! As a legging fabric blend, nylon offers a lot of benefits: it's quite durable, lightweight, doesn't wrinkle easily, and it's easy to care for. However, the material does have a propensity to shrink, so make sure to read the exact wash and dry care instructions on the pair of leggings you're considering.

These leggings combine the best of both worlds by combining durable, lightweight nylon with elastic, flattering spandex. For casual use, they're as soft and cuddly as cotton, but they also wick sweat away for working out. The fabric blend of these leggings is a hybrid of performance and style. Leggings made of nylon-spandex are ideal.

Cotton leggings have the advantage of being extremely soft. It's also a breathable (you won't feel stuffy), robust, and generally,  comfortable cloth to wear. Cotton retains its stretch better over time, making it ideal for the gym and far more comfortable for everyday use.
We are your specialized laser partner!
Contact us for information about laser cut legging