Professional and qualified Laser Cutting Solution for Cordura®
From outdoor adventures to daily life to the selection of workwear, versatile Cordura® fabrics are achieving multiple functions and uses. In terms of different functional performance, the industrial fabric cutting machine can perfectly cut and mark on Cordura® fabrics without damaging materials performance.
MimoWork, an experienced laser cutting machine manufacturer, can help realize efficient and high-quality laser cutting and marking on Cordura® fabrics by customized commercial fabric cutting machine.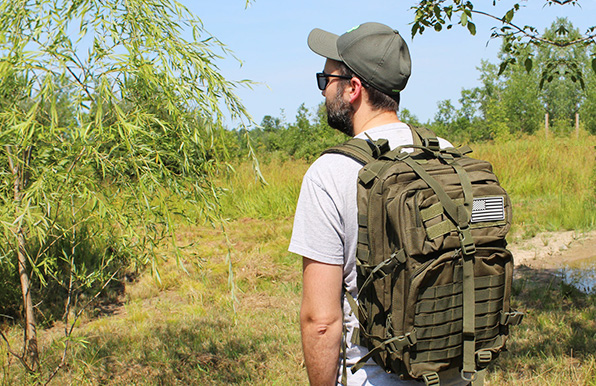 Video glance for Laser Cutting Cordura®
1050D Cordura® fabric is tested that has an excellent laser cutting ability
a. Can be laser cut and engraved within 0. 3mm precision
b. Can achieve smooth & clean cut edges
c. Suitable for small batches/ standardization
Any question to laser cutting & marking on Cordura®?
Let us know and offer further advice and solutions for you!
Recommended Fabric Laser Cutter for Cordura®
• Laser Power: 100W / 130W / 150W
• Working Area: 1600mm * 1000mm
• Laser Power: 150W / 300W / 500W
• Working Area: 1600mm * 3000mm
• Laser Power: 150W/300W/500W
• Working Area: 2500mm * 3000mm
Pick suitable Cordura Laser Cutter for your production
MimoWork offers you optimal working formats of fabric laser cutter as your pattern size and specific applications.
Benefits from Laser Cutting on Cordura® Fabrics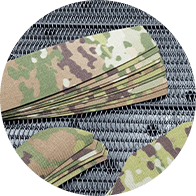 High repeatation precision & efficiency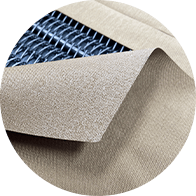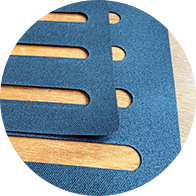 ✔  No material fixation due to the vacuum table
✔  No pulling deformation and performance damage with laser force-free processing
✔  No tool wear with laser beam optical & contactless processing
Laser processing for Cordura®

1. Laser Cutting on Cordura®
Agile and powerful laser head emits the thin laser beam to melt the edge to achieve laser cutting Cordura® fabric. Sealing edges while laser cutting.

2. Laser Marking on Cordura®
Fabric can be engraved with a fabric laser engraver, including Cordura, leather, synthetic fibers, micro-fiber, and canvas. Manufacturers can engrave fabric with a series of numbers to mark and distinguish the final products, also enrich the fabric with customization design for many purposes.
Typical applications of Cordura Nylon Fabric
• Cordura® Patch
• Cordura® Package
• Cordura® Backpack
• Cordura® Watch Strap
• Waterproof Cordura Nylon Bag
• Cordura® Motorcycle Pants
• Cordura® Seat Cover
• Cordura® Jacket
• Ballistic Jacket
• Cordura® Wallet
• Protective Vest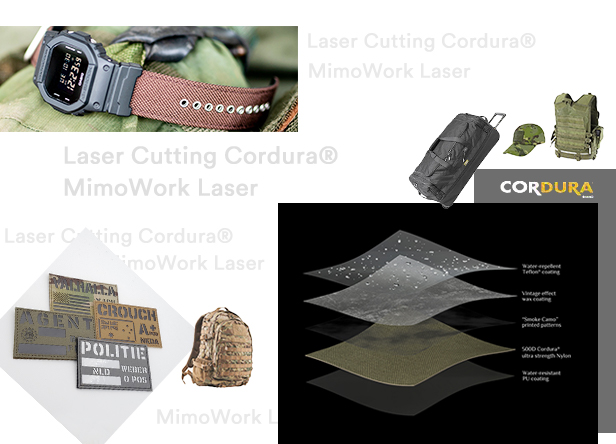 Material information of Laser Cutting Cordura®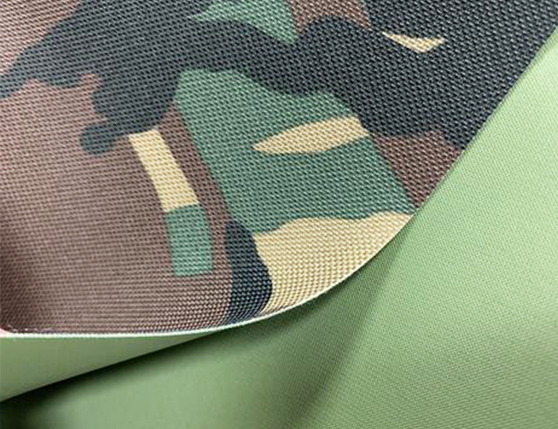 Usually made of nylon, Cordura® is regarded as the toughest synthetic fabric with unparalleled abrasion resistance, tear-resistance, and durability. Under the same weight, the durability of Cordura® is 2 to 3 times that of ordinary nylon and polyester, and 10 times that of ordinary cotton canvas. These superior performances have been maintained so far, and with the blessing and support of fashion, infinite possibilities are being created. Combined with printing and dyeing technology, blending technology, coating technology, versatile Cordura® fabrics are given more functionality. Without worry about materials' performance being damaged, laser systems own excellent advantages on cutting and marking for Cordura® fabrics. MimoWork has been optimizing and perfecting fabric laser cutters and fabric laser engravers to help manufacturers in the textile field update their production methods and obtain maximum benefit.
Related Cordura® Fabrics in the market:
CORDURA® Ballistic Fabric, CORDURA® AFT Fabric, CORDURA® Classic Fabric, CORDURA® Combat Wool™ Fabric, CORDURA® Denim, CORDURA® HP Fabric, CORDURA® Naturalle™ Fabric, CORDURA® TRUELOCK Fabric, CORDURA® T485 Hi-Vis FABRIC