Laser Cut on GORE-TEX Fabric
Today, laser cutting machines are widely used in the apparel industry and other design industries, intelligent and high efficient laser systems are your ideal choice to cut GORE-TEX Fabric due to the extreme precision. MimoWork provides various formats of laser cutters from standard fabric laser cutters to garment large format cutting machines to meet your production while ensuring the high quality of extreme precision.
Contact MIMOWORK for Laser Cut Service
How to Process GORE-TEX with Laser Cutter?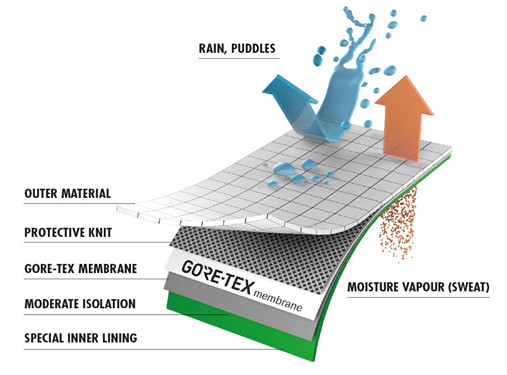 Put simply, GORE-TEX is a durable, breathable windproof and waterproof fabric you can find in lots of outdoor clothing, footwear and accessories. This superb fabric is produced from expanded PTFE, a form of polytetrafluoroethylene (PTFE) (ePTFE).
GORE-TEX fabric works extremely well with laser cut machine. Laser cutting is a method of manufacturing by using the laser beam to cut materials. All of the advantages such as extreme accuracy, time-saving process, clean cuts and sealed fabric edges make fabric laser cutting very popular in the fashion industry. In brief, using laser cutter will undoubtedly open up the possibility of customized design as well as high-efficiency production on the GORE-TEX fabric.
The Advantages of Laser Cut GORE-TEX
The advantages of laser cutter make fabric laser cutting a popular choice of manufacturing for a wide range of industries.
✔  Speed – One of the most essential advantages of working with laser cutting GORE-TEX is that it considerably increases the efficiency of both customization and mass production.
✔  Precision – The laser fabric cutter programmed by CNC  conducts complex cuts into intricate geometric patterns, and lasers produce these cuts and shapes with extreme precision.
✔  Repeatability – as mentioned, being able to make large quantities of the same product with high accuracy can help you save money in the long term.
✔  Professional Finish – using a laser beam on materials such as GORE-TEX will help seal in the edges and eliminate burr, making for a precise finish.
✔  Stable and Safe Structure – with owning CE Certification,  MimoWork Laser Machine has been proud of its solid and reliable quality.
Recommended Laser Cut Machine for GORE-TEX
• Laser Power: 100W/150W/300W
• Working Area: 1600mm * 1000mm
• Laser Power: 100W / 150W / 300W
• Working Area: 1600mm * 1000mm
• Collecting Area: 1600mm * 500mm
• Laser Power: 150W / 300W / 500W
• Working Area: 1600mm * 3000mm
You can easily master the method of using a laser machine to cut GORE-TEX by following the 4 steps below:
Step1: Load the GORE-TEX fabric with the auto-feeder.
Step2: Import the cutting files & set the parameters
Step3: Start to cut
Step4: Get the finishes
Typical Applications for GORE-TEX Fabric