Paper Art Gallery in laser cutting
• Invitation Card
• (3D) Greeting Card
• Table Card
• Earring Card
• Wall Art Panel
• Lantern (Light Box)
• Package (Wrapping)
• Business Card
• Brochure
• 3D Book Cover
• Model (Sculpture)
• Scrapbooking
• Paper Sticker
• Paper Filter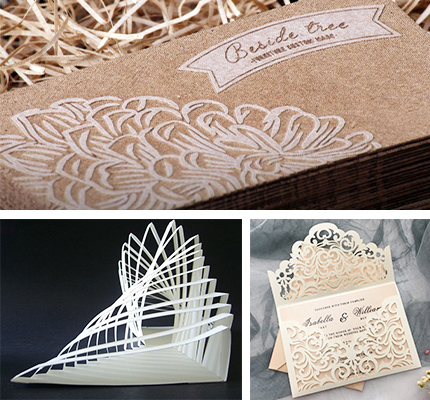 How to make layered paper cut art?
/ Laser Cutter Paper Projects /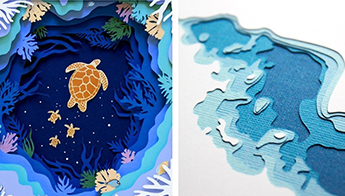 The paper laser cutting machine opens up creative ideas in paper products. If you laser cut paper or cardboard, you can make dedicated invitation cards, business cards, paper stands, or gift packaging with high-precision cut edges.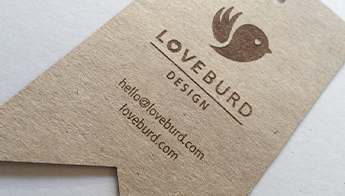 Laser engraving on paper can deliver brownish burning effects, which creates a retro feeling on the paper products like business cards. Partly evaporation of paper with the suction from the exhaust fan presents a great dimensional visual effect for us. Besides paper crafts, laser engraving can be used in text and log marking and scoring to create brand value.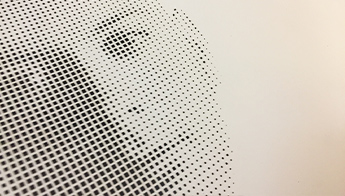 3. Paper Laser Perforating
Due to the fine laser beam, you can create a pixel picture composed of hollowed holes in different pitches and positions. And the hole's shape and size can be flexibly adjusted by laser setting.
Outstanding Advantages from Invitation Laser Cutter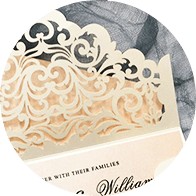 Intricate pattern cutting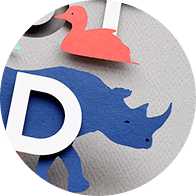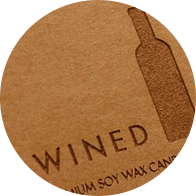 ✔  Smooth and crisp cutting edge
✔  Flexible shape cutting in any directions
✔  Clean and intact surface with contactless processing
✔ Accurate contour cutting for the printed pattern with CCD Camera
✔ High repetition due to digital control and auto-processing
✔ Fast and versatile production of laser cutting, engraving and perforating
Recommended laser cut machine for invitations
• Laser Power: 40W/60W/80W/100W
• Working Area: 1000mm * 600mm (39.3" * 23.6 ")
• Laser Power: 50W/80W/100W
• Working Area: 900mm * 500mm (35.4" * 19.6")
• Laser Power: 180W/250W/500W
• Working Area: 400mm * 400mm (15.7" * 15.7")
Any questions for paper cutting and laser machine?
Share your laser cut paper designs with us!
Paper Information for laser cutting
• Cardstock
• Cardboard
• Corrugated Paper
• Construction Paper
• Uncoated Paper
• Fine Paper
• Art Paper
• Silk Paper
• Matboard
• Paperboard
Copy Paper, Coated Paper, Waxed Paper, Fish Paper, Synthetic Paper, Bleached Paper, Kraft Paper, Bond Paper and others…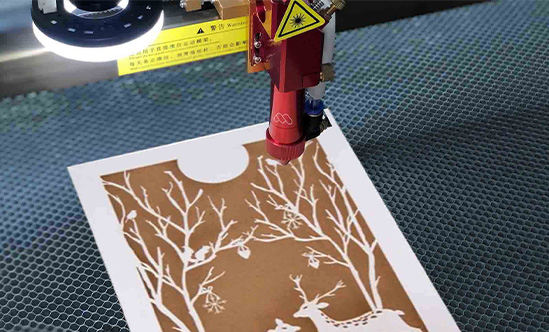 Tips for paper laser cutting
#1. Open the air assist and exhaust fan to dispel smoke and residue.
#2. Put some magnets on the paper surface for some curl and uneven paper.
#3. Make some tests on samples before real paper cutting.
#4. Proper laser power and speed are vital for multi-layers paper kiss-cutting.
Professional Laser Cutter for Crafters
Advertising and packaging industries as well as the crafts and arts consume paper-based materials (paper, paperboard, cardboard) heavily every year. With the growing demands for pattern novelty, style uniqueness of paper, laser cutting machine gradually occupies an irreplaceable position because of versatile processing methods (laser cutting, engraving & perforating in one step) and flexibility without pattern and tool limit. Plus with high efficiency and premium quality, the laser cutting machine can be seen in business production and art creation.
Paper is a really good medium to process by laser. With relatively small laser power, elegant cutting results can be achieved. MimoWork offers professional and customized laser solutions for clients in different fields.
If you are interested in paper laser cutting
Paper-based materials (paperboard, cardboard) are mainly comprised of cellulose fibers. The energy of a CO2 laser beam can be easily absorbed by the cellulose fibers. As a result, when the laser cuts completely through the surface, the paper-based materials vaporize quickly and resulting in clean cutting edges with none of the deformations.
You can learn more laser knowledge in Mimo-Pedia, or directly shoot us for your puzzles!
How to laser cut paper at home?
Contact us for any question, consultation or information sharing