Laser Cutting Printed Acrylic
Because of its versatility, acrylic is often used in visual communication. It attracts attention or transmits information whether used as an advertising sign or in sign marketing. Printed acrylic is becoming more popular for this use. With current printing techniques such as digital printing, this provides an interesting depth impression with vivid motifs or photo prints that may be made in a variety of sizes and thicknesses. The print-on-demand trend is increasingly presenting converters with unique client requirements that can't be met with a wide range of equipment. We explain why the laser cutter is ideal for working with printed acrylic.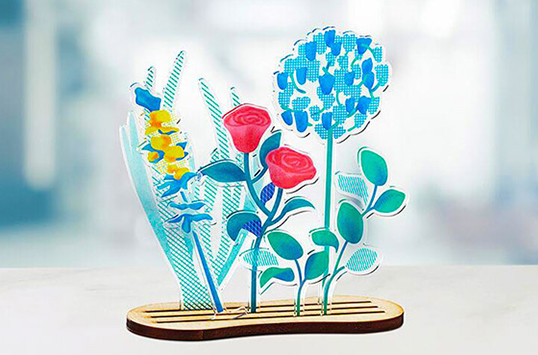 Video Display of Laser Cut Printed Acrylic
Printer?  Cutter?  What you can do with a laser machine?
Let's make a printed acrylic craft for your own!
This video demonstrates the whole life of printed acrylic and how to laser cut it. For the designed graphic born in your mind, laser cutter, with the help of a CCD Camera, position the pattern and cut along the contour. Smooth and crystal edge and accurate cut printed pattern! The laser cutter brings flexible and convenient processing for your personal requirements, whether at home or in production.
Why Use Laser Cutting Machine to Cut Printed Acrylic?
The cut edges of laser cutting technology will display no smoke residue, implying that the white back will remain perfect. The applied ink was not harmed by the laser cutting. This indicates that the print quality was outstanding all the way to the cut edge. The cut edge did not require polishing or post-processing because the laser-produced the requisite smooth cut edge in one pass. The conclusion is that cutting printed acrylic with a laser can produce the desired results.
Cutting Requirements for Printed Acrylic
- Contour-accurate is a must for every print acrylic contour cutting
- Non-contact processing ensures that the material and print are not harmed.
- On the print, there is no smoke development and/or color shift.
- Process automation improves manufacturing efficiency.
The Goal of Cutting Processing
Acrylic processors face entirely new issues when it comes to printing. Gentle processing is required to ensure that neither the substance nor the ink are harmed.
Cutting Solution (Recommended Laser Machine from MIMOWORK)
• Laser Power: 100W/150W / 300W
• Working Area: 1300mm * 900mm (51.2" * 35.4 ")
Want to purchase a laser machine,
but still have confuse?
We also can customize the working flatbed size to meet the cutting processes for different sizes of printed acrylic.
Benefits of Laser Cutting Printed Acrylic
Our optical recognition technology is recommended for precise, contour-accurate cutting in an automated procedure. This ingenious system, which consists of a camera and evaluation software, allows outlines to be recognized using fiducial markers. Invest in modern automated equipment to stay ahead of the curve when it comes to acrylic processing. You can meet your clients' needs at any time using MIMOWORK Laser Cutter.
✔   Precise cutting following every print contour imaginable.
✔  Without repolishing, get smooth, burr-free cut edges with maximum brilliance and a noble appearance.
✔  With the use of fiducial markings, the optical recognition system positions the laser beam.
✔  Faster throughput times and higher process dependability, as well as shorter machine setup times.
✔  Without the production of chippings or the need to clean tools, processing can be done in a clean manner.
✔  Processes are heavily automated from import to file output.
Laser Cut Printed Acrylic Projects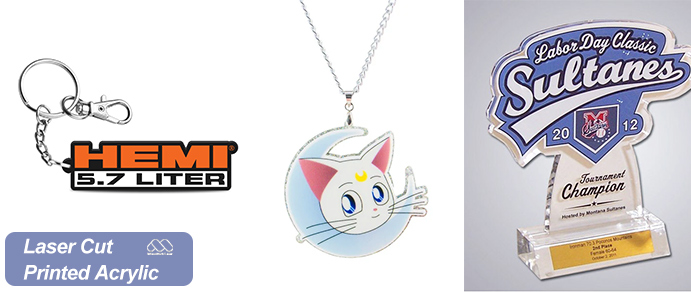 • Laser Cut Acrylic Key Chain
• Laser Cut Acrylic Earrings
• Laser Cut Acrylic Necklace
• Laser Cut Acrylic Awards
• Laser Cut Acrylic Brooch
• Laser Cut Acrylic Jewelry
Highlights and upgrade options
Why choose MimoWork Laser Machine?
✦ Accurate contour recognition and cutting with Optical Recognition System
✦ Various formats and types of Working Tables to meet specific demands
✦ Clean and safe working environment with digital control systems and Fume Extractor
✦ Dual and Multi Laser Heads are all available
Work With Us to Create More Laser Cut Acrylic Ideas