The DuPont Sorona® fibers and fabrics combine partially plant-based ingredients with high-performance features, providing exceptional softness, excellent stretch, and recovery for maximum comfort and long-lasting performance. Its composition of 37 percent renewable plant-based ingredients requires less energy and releases fewer greenhouse gas emissions as compared to Nylon 6. (Sorona fabric properties)
Recommended Fabric Laser Machine for Sorona®
Contour Laser Cutter 160L is equipped with an HD Camera on the top which can detect the contour and transfer the cutting data to the laser…
Especially for textile & leather and other soft materials cutting. You can choose different working platforms for different materials...
The Mimowork's Flatbed Laser Cutter 160L is R&D for textile rolls and soft materials, especially for dye-sublimation fabric...
1. Laser Cutting on Sorona®
The long-lasting stretch characteristic makes it a superior substitute for spandex. Many manufacturers who pursue high-quality products tend to put more emphasis on the accuracy of dyeing and cutting. However, conventional cutting methods such as knife cutting or punching are not able to promise the fine details, moreover, they might cause the distortion of fabric during the cutting process.
Agile and powerful MimoWork laser head emits the fine laser beam to cut and seal edges without contact, which makes sure Sorona® fabrics have a more smooth, accurate, and eco-friendly cutting outcome.
▶ Benefits from laser cutting
✔  No tool wear - save your costs
✔  Minimum dust and smoke - environment friendly
✔  Flexible processing - wide application in automotive & aviation industry, clothing & home industry, e
2. Laser Perforating on Sorona®
Sorona® has long-lasting comfort stretch, and excellent recovery for shape retention, a perfect fit for the flat-knit product needs. Therefore Sorona® fiber can maximize the wearing comfort of the shoes. Laser Perforating adopts non-contact processing on materials, resulting in materials' intactness regardless of elasticity, and fast speed on perforating.
▶ Benefits from laser perforating
✔  High Speed
✔  Precise laser beam within 200μm
✔  Perforating in all
3. Laser Marking on Sorona®
More possibilities arise for the manufacturers in the fashion and apparels market. You definitely would like to introduce this laser technology to enrich your production line. It is a differentiator and value add to products, allowing your partners to command a premium for their products. Laser marking can create permanent and customized graphics and marking on Sorona®.
▶ Benefits from laser marking
✔  Delicate marking with super fine details
✔  Suitable for both short runs and industrial mass production runs
✔  Marking any design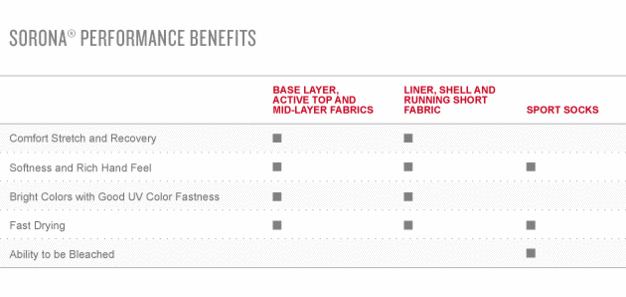 The main benefits of Sorona®
Sorona® renewable source fibers provide an excellent performance combination for environmentally friendly clothing. Fabrics made with Sorona® are very soft, extremely strong, and fast-drying. Sorona® gives fabrics a comfortable stretch, as well as excellent shape retention. Additionally, for fabric mills and ready-to-wear manufacturers, fabrics made with Sorona® can be dyed at lower temperatures and have excellent colorfastness.
Perfect combination with other fibers
One of the best features of Sorona® is its ability to enhance the performance of other fibers used in eco-friendly suits. Sorona® fibers can be mixed with any other fiber, including cotton, hemp, wool, nylon and polyester polyester fibers.When blended with cotton or hemp, Sorona® adds softness and comfort to elasticity, and is not prone to wrinkling.When blended with wool, Sorona® adds softness and durability to the wool.
Able to adapt to a variety of clothing applications
SORONA ® has unique advantages to meet the needs of a variety of terminal clothing applications. For example, Sorona® can make underwear more delicate and soft, make outdoor sportswear and jeans more comfortable and flexible, and make outerwear less deformation.